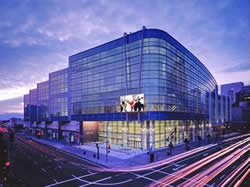 Alex and I went to Macworld 2012 today at Moscone Center West. Macworld is like a grandparent: she's beloved, but each year she shrinks a little bit. And when you see her around the edges, you can't help worrying how much longer she'll be around.
Macworld is turning into the iPad/iPhone show. I think three quarters of the booths are device cases, covers, arms, attachments, cleaners, accessories or other related gear.  Although I've been an Apple Computer person since my Apple II, I'm not much into the gadgets. I finally have a newish iPod, which I love, but not the iPhone nor an iPad. And so really, three quarters of the show is not for me. As a Mac user, I'm used to feeling left out, but I'm not used to feeling left out at Macworld.
And, like I said, it's shrinking, bit by bit, it seems. If things go on their present course, there will be nothing there but iPad and iPhone booths in a few years. Well, maybe by then I'll have an iPad.
I made the following observations on the MacWorld 2012 show floor: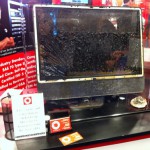 1. Seeing the data recovery booth is off-putting, at best. Yes, I know they are providing a valuable service. Yes, I understand they are great at what they do. But advertising for data recovery is like advertising for chemo. There may be a few of us who really need it right now, but the rest of us avert our eyes, superstitiously, in the hopes that we never, ever need to remember the name of that booth. (I've already forgotten).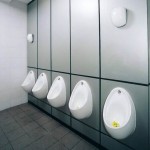 2. The boys bathroom in Moscone Center needs hooks above the urinals – the same kind of hooks they provide in women's stalls for their purses. All of us male convention goers have our bag of goodies and all of us go pee and not a god damn one of us likes setting our bag of goodies on the floor anywhere near the god damn urinal. Disgusting!  We also don't like the alternative – trying to hold our bag with one hand while trying to unzip and unbutton and all the rest, while trying not to pee on our bulging, unwieldy swag bag.
Please, Moscone Center. Give us the god damn hooks. It could not possibly cost that much to install. You could even use the cheap-o plastic ones from the container store a few doors down. It would cost, at most, a hundred bucks.
3. No wifi on the convention show floor is mind-numbingling stupid. Really. Yes, I know, Moscone Center gets a king's ransom for selling wifi at incredibly jacked-up prices to the booth owners (we're talking north of a thousand dollars each in some cases), money Moscone Center won't get if there's public wifi on the show floor. But Jesus H. Christ, this is the iPad show and every one of these iPads is hobbled without wifi. Let up! Those of us attendees who want to do online things with our laptops can't do any of those things on the show floor. It's incredibly frustrating because we all, every one of us, knows the reason: The wifi signal is blocked by Moscone Center's sickening greed.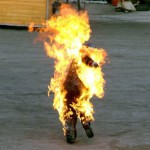 4. The show floor is about ten degrees hotter than it should be. It's always this way, every show, every god damn time. Why can't it be cooler? Why, oh why? I ask this every god damn show.