When I have a product question, I like to go to the product's website to find the answer.  It's not uncommon to not be able to find the information you're looking for: a startling number of sites don't have FAQs; the information is organized specifically to support sales & marketing.  That's just the reality these days, since the website in most companies has been folded into the marketing department.
But every once in a while, I run into a website flaw so annoying it should serve as an example to others: "don't do this every dumb thing."
---
Alex and I have a new dog. We're finding that even though we are washing him once a week, the dog smell starts to be noticeable on day five after the bath. Alex suggested we get some febreze. I like the idea in theory: something we can spray on our stuff that neutralizes the odor. However, in practice, I crossed out febreze from the list of things I would ever buy because the perfume in the product is so overwhelmingly heavy. The perfume in febreze is  so strong it gives me a headache. It's not as bad as Glade air "freshener" but I put it in the same category: so-called "fresh" smells that come from a can are never fresh and never "light."
I heard an interesting story about febreze just a week ago on a podcast. The takeaway from the story (for me, anyways) was that febreze, in its original incarnation, had no scent. It was simply an odor blocker. That's exactly what I want: A scent-free version of febreze that won't give me headaches from the cloying, noxious, chemical perfume smell they add so it sells in the car-on-the-lawn states.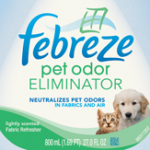 So, as one does, I went to the febreze website to find out if they offered such a thing. I saw every conceivable added scent, even a "pet odor" version, but that says "scented" on it. No dice.
I did, however, find a contact form, so at least I could ask my question on this Saturday morning and perhaps have an answer sometime on Monday.
After filling out all sixteen fields of the form and hitting submit, the form spits back the dumbest, most useless of error descriptions:

This is god damn annoying. I took the time to fill out the whole form, only to be defeated by some half-baked javascript. This is a nightmare from a user-experience perspective. The  form has not been thought out. I should never see a message like this. And if it happened to me, you can bet it's happening to other people.