I come off my latest month-long Facebook ban this evening. I figured I should probably post about it here, where I can do so in relative safety.
I read this story about Facebook relaxing its rules on call for violence as long as those calls for violence are against Vladimir Putin. I was, like, good for Facebook. I don't like calls for violence, but I can get behind ill-wishing towards that tiny, despotic cretin. If anybody deserves it, he does.
It then occurred to me that I had a mosaic photo of Putin comprised entirely of dick pics. I thought it might work well as a Facebook Cover Photo. So, that's what I did.
Facebook's robot immediately told me that it was not an appropriate photo and that it would be removed.
OK, I thought, that's fine. I guess the restriction only applies to violent statements, not harmless humor. Fine, whatever, I'll just post a dog photo for my cover photo, instead.
But, then, the next question asked by the user interface is if I agreed with the decision.
I shrugged. Sure, I guess. I mean, it's their site. If they don't want it on there, I won't put it on there.
Click: Agree.
I went on to try to upload another cover photo, and got this message: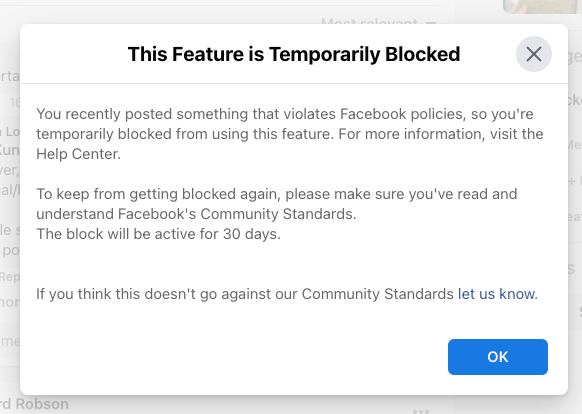 I know that popup very well. It means I'm banned. Again. For something the system immediately caught, asked me to take down, which I did, and then it banned me anyway. God dammit.
I clicked on the let us know link, which opened a popup, in which I posted a very brief appeal. And, then, when I hit Send, I get the error message that tells me I can't appeal being banned while I'm banned:

Facebook can go to Hell. Seriously. Every time their stock drops, I rub my hands together and cackle with glee.